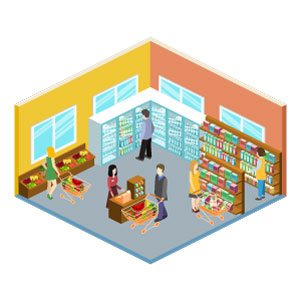 It's the new year and time to think about new designs for your retail space. For inspiration, check out the series of stories highlighting design award-winners at Convenience Store News.
These great convenience store designs have inspired us to come up with a list of 10 ideas to consider when building a store or revamping your existing one:
1. Target your audience. If you have younger customers, keep them in mind when designing your store. Consider contemporary architecture, video ads and plenty of smart-phone-capable features — not to mention wi-fi and charging stations at each table in your eating area.
2. Go for class. The convenience store doesn't have to be the trashy cement box on your block. Consider an exterior and interior that incorporate harmonious colors and natural materials such as wood and stone.
3. Think local. Use decor that appeals to your customers and makes them feel at home. Do you have a famous local tourist attraction or regional identity? Is the local high-school sports team a big deal in your community? Perhaps your store has a rich history in the community, and you have great photos of the vintage gas station and the cars that visited it. Use elements like these to shape a fun and familiar atmosphere for your shoppers.
4. Make room for food. If you haven't started serving fresh food yet, it's time to embrace the trend. Enabling interaction between the folks preparing the food and visitors is a bonus. Incorporate space for food sales and preparation as well as tables where customers can linger and eat their fresh sandwich or pizza. Keep the design clean, bright, open and inviting. Ask yourself: Is this a place where I would enjoy a meal?
5. Be brand-forward. Consider implementing key aspects of your brand and logo into your store design. Sometimes less is more — keep the brand visible, but avoid visual clutter. If you have a central message about satisfaction and quality, make sure customers can see that, too. Conform the color scheme to your brand.
6. Emphasize lines of sight. You want to see customers as they come in so you can greet them at the door, and you want them to see you. In addition, you want them to see everything you have to offer. Consider a design that lets them immediately survey your convenience store or travel stop as soon as they enter the building. They should be able to spot fresh and prepared foods, restaurants and restroom facilities at a glance. The added visibility will also help store employees keep an eye on customers, enhancing security.
7. Make it pop. If subtle is not for you, consider the happy energy of color. Bright primary colors, pop art and fun lighting will convey a good mood to customers, making them happy to stop, dine and shop.
8. Consider art. Whether you make signs and doors a canvas for spectacular and colorful art, as the All-N-1 in Campti, Louisiana, did, or feature the work of local artists and photographers on your store and restroom walls, you can personalize and warm up the shopping experience for your visitors.
9. Remember non-humans. Many people travel with pets. Especially if your store attracts a lot of travelers, consider having a fenced exercise yard for dogs with waste bags and a trash receptacle available. If local laws allow, create a pet-friendly seating area outside your store where visitors can relax and enjoy your food offerings.
10. Think outside the box. You might offer much more than the typical convenience store, and you can emphasize those offerings. Does your store sell wine? Try a counter for wine tastings, as the Dirt Cheap store did in O'Fallon, Missouri. How about tobacco products? Make a smoke shop an identifiable, even separate, part of your store. Such "departments" for food and more will emphasize the diversity of your offerings.