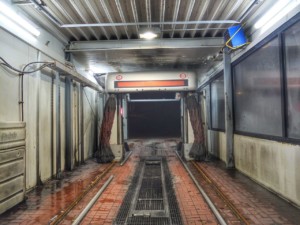 Maybe your gas station or convenience store no longer has a car wash, or perhaps business is slow at your hand-operated wash. Still, the gas station car wash building occupies a fair chunk of your property. What should you do with it?
It turns out, there are several possibilities that can make you more money.
1. Change up your wash. Some gas station owners are turning self-serve bays into cutting-edge automatic tunnel washes, which have the added benefit of not requiring extra labor. A motorcycle wash is also a possibility. And some entrepreneurs are even turning their car wash, or a bay of their wash, into a dog wash. There are dog-washing machines just for this purpose. You may think we are kidding… but it has been done!
2. Rent out the space. You can always rent the car wash building out to another business, preferably one that has appeal to your auto-driving customers. Businesses that make a great fit include window-tinting companies, car-detailing companies, paintless dent-removal services and oil-change vendors.
3. Get creative with retail. Car wash buildings can also make a fine retail space. Car washes across the country have been converted into coffee shops, offices, car rental offices, breweries and doughnut shops.
4. Try vending. Unused car wash bays make a great spot to put an array of vending machines, including those that specialize in car-care products.
5. Open a restaurant. Converting old car washes and service stations into eateries is a growing trend. If your car wash building is the right size, it might make a great place for a restaurant, and it will make your location more "sticky," prompting diners to stay longer to shop and get gas, too.
According to the Statistic Brain Research Institute, there are still plenty of people making money with car washes, but revenue declined by 1.6 percent from 2006 to 2011.
The car wash industry makes $5.8 billion annually, according to Statistic Brain. If does 9,000 full-service car washes a year; 10,500 exterior conveyor washes; 58,000 in-bay automatic washes; and 36,000 self-serve washes. The industry employs 350,000 people, who wash 8 million cars a day.