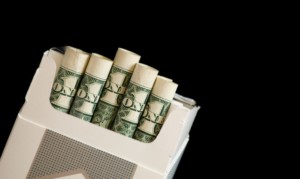 Tobacco companies raised cigarette prices in November. Philip Morris USA increased its list price by 7 cents a pack, or 70 cents per carton, as reported by Convenience Store News.
Reynolds American Inc., ITG Brands and other companies followed suit, though the increases varied. Read the full story HERE.
Reynolds American, meanwhile, said it was bullish on the vapor market as it unveiled its new VUSE products during its Nov. 16 Investor Day, Convenience Store News reported.
The new products will include Bluetooth and smart technology and a fob with a screen that work with the VUSE app, a "Dock & Lock" system for refilling the device, and a closed cartridge system that's easy to use.
Read more about the products in the CSNews.com story here.
There are more than 250 e-cigarette brands on the market, according to the National Institute on Drug Abuse. They are not yet regulated as tobacco products by the FDA, raising concerns about safety standards and their popularity among adolescents, notes NIDA, affiliated with the National Institutes of Health.