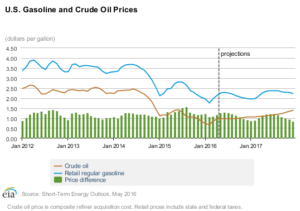 The Energy Information Administration recently raised its estimate of U.S. crude processing capacity, and more capacity is expected soon, according to the Oil Price Information Service.
Capacity could rise above 18.5 million barrels per day by peak summer driving season. Of course, more capacity could mean lower prices, hurting margins on fuel. 
Get more details at OPISnet.com here
EIA projects (https://www.eia.gov/forecasts/steo/report/SummerFuels.cfm) the retail price of regular gasoline will be $2.04 per gallon during the summer driving season. That's down from $2.63 last summer and would be the lowest summer average since 2004. Diesel fuel is expected to retail for an average of $2.11 per gallon this summer, down from $2.74 last summer.