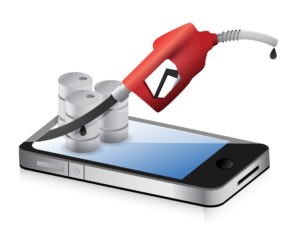 There's a great source of free advertising for your gas station – your customers' smart phones. More specifically, the apps on those phones can attract people to your store by conveying low gas prices and great reviews.
Are you listed? And are you getting the kind of publicity you want?
Here are some apps and sources that can help you – and some tips on how to get yourself represented well.
GasBuddy: This app, which helps customers find low gas prices wherever they are, is the go-to source for smart-phone savings at service stations. (It also offers coupons for users' favorite on-the-go snacks.)
People with the app type in a ZIP code or press the "Find Gas Near Me" button to pull up information on nearby gas stations. Users are also encouraged to report gas prices by clicking the existing price (or a blank if there is no number) and entering the latest price in the provided field. They also report the time. Encourage your customers to report your low prices on the GasBuddy app, and become a GasBuddy user yourself.
What if your station isn't on the app? The easiest way to get your station listed if it isn't in the directory is to do it from the app on an Android device or iPhone. Go to the station list screen and scroll to the bottom of the page. Tap on "Suggest a Station." Center the map on the location of your station and tap "Done." Then enter the station's information. Be as thorough as possible to increase your chances of being listed. All suggestions are reviewed before they are added.
You can also add your station via the website at GasBuddy.com, but you have to have 10,000 points as a GasBuddy member to get the station added or edited that way. Learn more here.
Other fuel-price apps include Gas Guru, Fuelzee, and Gas Prices. Many other travel apps tell consumers where to find service stations and even where to find ethanol-free gas (Pure Gas). Many are free, so you can download them and see how you're represented.
Yelp: Yelp isn't just for restaurants. All kinds of businesses are being reviewed on Yelp, including gas stations, and you might be surprised at your own feedback if you haven't been paying attention.
Help get out the message you want by encouraging your happy customers to give you a review. On the app (whose interface is subject to change as it's updated), click on "More Categories" and then "Gas & Service Stations."
If you serve more than snack food at your station, also seek out a listing in Yelp's restaurant category. Create and/or sign into your Yelp account on the web, then find and claim your Yelp Business Page here
Make sure you search first to see if your business is in the directory before trying to create a listing. You can select up to three categories for your business.
Google: What? Google isn't an app, is it? Actually, Google is pervasive on your devices these days, and any web search, including those on an iPhone, will pull up Google results. That's why it's so important to have a current, accurate Google business listing.
It's also important to encourage your satisfied customers to write reviews on Google. Not as many people are into writing reviews on Google as they do on, say, Yelp, so one or two negative reviews can control the message. And anything on Google is a powerful message.
Search for your business on Google. You may see a listing for it to the right of the main search results, including any reviews that customers have written. There will also be a link that says "Own this business?" If you go through the process of verifying your identity with Google, you can make sure the listing information is up to date. Learn more here.