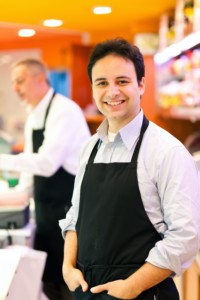 One key to having happy, repeat customers is to have happy customer service representatives.
Working as a customer service rep can be a stressful job. If customers have problems, your employees have to deal with them, and the process isn't always pleasant.
Customer service relates directly to how much money you can make. A 2011 Oracle report found 86 percent of customers will pay more for better customer service.
And a Glassdoor study found that 81 percent of employees were motivated to work harder when a boss showed appreciation for their work.
As an employer, you can do several things to keep your workers invested in your company's success.
Incentives:
• Reward tasks with money or a gift card.
• Consider quarterly bonuses if customer service reps meet a certain standard or level of sales or respond to the most customer service inquiries.
• Offer rewards tied to a particular goal. For instance, have your reps encourage happy customers to post reviews on social media, such as Facebook and Yelp. Offer bonuses for every benchmark – say, every 10 positive reviews.
Fun:
• Offer employees perks and breaks, such as doughnuts or cookies, a gourmet lunch from a favorite restaurant, or massages.
• Play games with prizes on a regular basis to keep the work atmosphere lively.
• Organize team-building and group activities – bowling, going to the zoo, having a company picnic, playing a softball game.
Recognition:
• Acknowledge hard work with awards, such as employee of the month, with a ceremony, a cake and a photo displayed in a prominent place.
• Offer rewards and awards for going above and beyond the defined tasks of the job.
• Thank your employees! Employees who feel appreciated work harder.
Empowerment:
• Give your reps a voice in making the company work better by holding meetings and collecting suggestions.
• Find aspects of your employees' performance to praise, not just to criticize.
• Provide opportunities for growth and promotion by offering a clear career path and asking employees what they want and hope for in their jobs.
• Offer training and coaching to give employees tools they need to succeed.
• Allow flexible scheduling that gives employees more of a sense of control over their jobs and lives.
• Empower employees to contribute to the success of the company via responsibilities and decision-making.