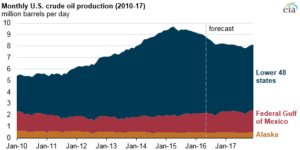 As low oil prices persist, oil production in the lower 48 states is expected to drop from an average of 7.41 million barrels per day in 2015 to 6.46 million barrels this year and 5.76 million in 2017, according to the U.S. Energy Information Administration.
Higher production in the Gulf of Mexico is not expected to offset the declines in land-based oil production. Total projected production is expected to fall from 9.43 million barrels a day to 8.04 million next year, EIA reports.
Operating rigs in the lower 48 states will decrease through the middle of 2016 before slowly increasing, but oil production will continue to decline through next year, EIA projects.
There's still a lot of uncertainty in the markets about crude oil prices.