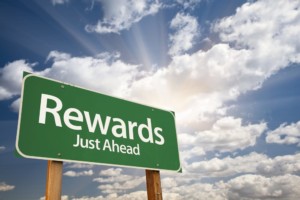 Many gas station brands offer rewards cards for customers that help them get discounts and bonuses. The programs also inspire loyalty in customers, who keep coming back to get cheaper prices on gas and other benefits.
A rewards card can earn consumers bonuses every time they fill up. Some offer bonuses when they sign up. Any reward they get can be earned on top of credit-card points or cash back, so what's not to like?
Here are a few examples of rewards programs:
— Shell's Fuel Rewards members save at least three cents a gallon every time they fill up at participating Shell stations. In addition, when members shop at participating retailers and restaurants, they can earn more savings. 
— ExxonMobil's Plenti points can be earned and used at Exxon and Mobil service stations. Members can get more points with offers from Plenti partners and can use their savings with certain partners, too. 
— BP's Driver Rewards lets members earn 10 cents off per gallon for every $100 they spend on BP fuel. 
Some retailers, such as grocery stores, offer discounts on their fuel that are linked to purchases in the store.
Just 12 to 15 percent of consumers are loyal to a single retailer, the Center for Retail Management has found, but they can generate 55 to 70 percent of company sales, CRMtrends.com reports.
One of the great opportunities of having a loyalty program, says CRMtrends, is taking advantage of the program's ability to measure and understand the behavior of customers. If the behavior is understood, you can lure new customers, increase the spending of existing customers, retain more customers and learn how to shift spending to products that earn you more. 
Such programs have to keep up with changing attitudes and values to be effective. And they don't just have to reward customers with discounts. Some may give cash back; others may employ points for multiple purposes.
They may target specific customers, too. For instance, ExxonMobil is offering discounts through the Partner Fuel Card to Uber drivers.
CRMtrends predicts that loyalty programs "will begin to take a more holistic view of customers," offering rewards that appeal to multiple areas of interest, the way Amazon Prime offers fast shipping, free streaming movies and more.
Programs are likely to change in implementation as well. Now, customers have to swipe loyalty and credit cards separately at the pump. As technology changes, mobile-pay apps will allow one-action payments that also incorporate loyalty rewards.
Whatever program you adopt, it's important to find a way to track how your customers are earning and using points so you can make their experience better and improve your sales.