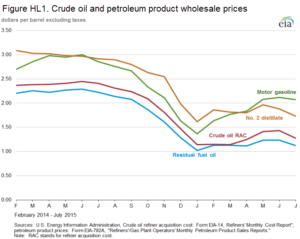 Dampened oil prices could mean less investment in exploration and production, the U.S. Energy Information Administration reports.
Data released Oct. 1 by the EIA showed average crude oil prices down in all sales categories in July.
The average domestic crude oil first purchase price fell 14.6 percent, or $8.18, to $47.70 per barrel.
"Low oil prices, if sustained, could mark the beginning of a long-term drop in upstream investment," the EIA reports. "Oil prices reflect supply and demand balances, with increasing prices often suggesting a need for greater supply. Greater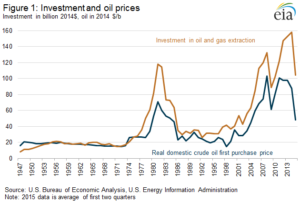 supply, in turn, typically requires increased investment in exploration and production activities. Lower prices reduce investment activity."
A boom in investment, cresting at $100 billion (in 2014 dollars), occurred with the rise in oil prices in 1981 and 1982. But in the early 2000s, investment averaged $30 billion to $40 billion per year, reflecting the fall in crude oil prices. Projections of prices of $70 per barrel in 2020 "could result in substantially lower annual oil and gas investment" in the next five years, EIA says.
Read more about the issue here: Click Here