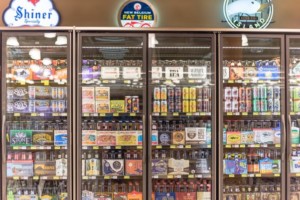 Putting stuff in the fridge doesn't seem like much of an art, at least not until you are stocking the extensive coolers of a convenience store.
Grouping products is mandatory — or, as the experts say, they have to be merchandised correctly. Beers, sodas, waters, dairy products: All must be organized, ideally each in their own cooler.
There's a logic to the order in which they appear, with categories assigned to the glass doors in your cooler. The arrangements have to be adjusted depending on how many doors you have.
Determine the first door your customers will see as they walk past the register when entering your store. The first of these cooler doors should feature your dairy and related products: milk, cheese, eggs.
Your second door is usually a window onto all of your juices. A door just for water is next, given that water is one of the biggest sellers. Next come iced teas and similar drinks.
Isotonic or sports drinks will be in the next cooler — mostly Gatorade, accompanied by Powerade. Energy drinks would occupy your next window: Red Bull and Monster each should get about three shelves, with other candidates filling the rest.
Somewhere in the middle here — and before you get to the beer — you'll have coolers for soda. Coke products stay together; Pepsi products stay together. Chances are, they'll each get their own door.
Finally, beer fills the last coolers — usually about four doors. There should be a full door of single beers of different sizes, in bottles and cans. Further doors will contain six-packs, 12-packs and 18-packs. If you sort by price, the order is up to you — least to most expensive, or vice versa.
Prices should be displayed so that they're easily visible to customers, but don't cover the glass doors with signs. One or two signs per door should highlight the best values. Simplicity makes for more effective marketing.
Behind the scenes, labels are also important to those who are stocking the coolers. Labels should be placed behind each item in the back so that stockers can see them easily and know where to put your products.
It's also good to place products so that stockers don't have to rearrange them to put new stock in place. Good organization helps stockers get their job done fast.
Stockers should break down and take out empty cardboard boxes, holding them for recycling as dictated by local laws. For security reasons, you don't want anything in your boxes when you put them outside.
Stocking usually takes place twice a day — once after the first shift, around 3 p.m., so popular items are ready for the evening rush, and also at the end of the night. That's when you replenish sodas, beers and other products that have been selling rapidly during the evening.
With efficient organization and stocking practices, you'll have coolers full of products that are easy for customers to find and buy.