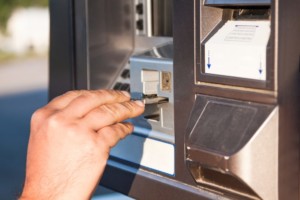 It wasn't unusual over the holidays to go to a store that still wasn't taking credit cards with chips, reflecting a lag in adoption of EMV technology.
Despite the Oct. 1 deadline that made stores without the ability to accept chipped cards liable for fraud, only 35 percent of convenience-store chains said they were compliant just before that deadline, according to a survey by Convenience Store News. 
EMV stands for Europay, MasterCard and Visa, who created the chip standard for credit cards that allows for more secure transactions than swiping.
Of U.S. credit and debit cards, 98 percent are expected to have EMV chips by the end of 2017, according to the payments-industry-driven Payments Security Task Force. But the rollout is just beginning, according to CardFlight data released in December. 
More than half of cards presented at U.S. merchants had EMV chips. Of those, 83 percent of American Express cards had chips; Visa was at 53 percent; MasterCard was at 42 percent; and Discover was at 40 percent.
The states with the most use of EMV cards were Hawaii (63 percent), Florida and New York (both 59 percent). The lowest usage was in South Dakota, Maine (both at 20 percent) and Mississippi (11 percent).
A ConsumerWorld.org survey found that of 48 national and regional chains, only one in four had payment terminals that could process a transaction that takes advantage of the chipped cards. Many retailers have the terminals but aren't yet using the technology.
There are various reasons for the lag, according to CNBC. Converting to the new technology means integrating new software, certifying the system and training employees. Some retailers didn't want to make a major change for the busiest sales season of the year. Others wanted to make sure issues with debit cards were ironed out before implementing the technology for credit and debit cards.
Of note, Target was an early adopter of chip technology after its huge data breach in 2013.
Switching to the chip cards is not legally required, but now the burden of fraud is on stores that haven't converted. And there's a lot of fraud.
"Payment card fraud cost the U.S. $7.9 billion last year," Business Insider reported.
Gas stations may be especially vulnerable to fraud as thieves turn to the path of least resistance – businesses still taking magnetic-stripe swipe cards.
As reported in Fuel Marketer News, converting systems has cost retailers an average of $26,000 per site, a big bite out of an average store profit of $47,000 per year. 
The article recommends ordering equipment early enough to beat the rush, as only so many technicians can perform upgrades at service stations. Certification may be complex.
In addition, you need to make sure your communications infrastructure is updated. Broadband will be necessary to support the new chip readers, according to a presentation at the recent NACS show. NACS, originally the National Association of Convenience Stores, is now known as the Association for Convenience and Fuel Retailing.
Retrofit kits are available to update pumps regardless of their manufacturer.
Protection against fraud should give merchants peace of mind, but headaches after conversion may include customer confusion and cards left behind at the pump.
Learn the basics about chip cards at GoChipCard.com.